All our training is done in 3 sections:
Section 1 - Online - where we cover an introduction to your selected modality plus cover all the theory work. This is completed the week before training.
Download your manual and familiarize yourself with the content.
You will complete 12 Theory Units and have access to 4 live video demonstration of various aspects of the treatment.
Complete a quiz before starting section 2 of your course.
This enables our instructors to spend the majority of time in the class on practical.
Section 2 - in Person - where we cover all the practical work on models, guided by your trainer.
You will complete 3 Theory Units and perform 3 full treatments
Section 3 - Assessment & Certification as set our in our Assessment Schedule.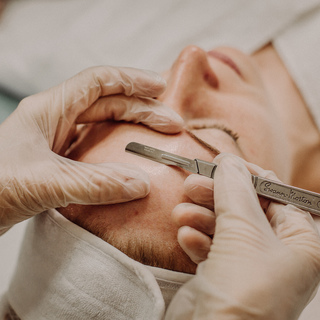 Section 1: Online Course
What's covered in this section?
What is dermaplaning?
History & Purpose of Dermaplaning
Your Sales Story
Principals of Rejuvenation
Biology of the Skin
Biology of the Hair
Client Selection
Skin Analysis & Consultation
Introduction of Dermaplaning Tools & Implements
Demo Video - Full treatment – Right handed
Demo Video – Left handed
Demo Video - Blade Removal
Demo Video - Section Setup
Clinic Admin
The Therapist
Health & Safety
Section 1 - Course Quiz
Section 2: In Person Class
This is the practical portion and is hands-on either in class or over zoom, if you are too far away.
Dermaplaning Recap
Treatment Procedure
Treatment Protocols
Integrating Skin Care, Actives and other modalities

Guided Practical Experience (2 full treatments)
Section 2 - Course Quiz
Section 3: Assessment & Certification

Competency is measured and assessed as per our set guideline and completed during the practical dermaplaning procedure on the full-face of a live model on training day.
Downloadable Materials include:
2 Training Manuals,
Consent Form Templates
Consultation Form Templates
Face Diagram (PDF)
Practical Video Demonstrations.
We also supply:
An Updated Covid-Ready Health & Safety Protocol
Owners Manual for Owners only
Marketing Manual with images for Social Media & Websites
On-Going Support:
Your training doesn't end when you leave the class. We offer on-going support via e-mail, phone, live video conference and access to our private
Facebook group Dermaplaning NZ to help you through any challenges as you work your way toward mastery.
Getting Started:
We have a starter kit available. Talk to one of our sales team or educators about which kit will be right for you.
Return on Investment:
This class will pay for itself in increased revenue within the first month as the kit provides you with more than enough stock and material to generate up to $4,000.
This ensures a large return on a small investment.
Join us for a Hands-On Dermaplaning Class and start offering a new service to your clients right away!
Contact one of our friendly team members on: